As most of you know, on June 29th the Parish of Saint Nicholas was created with the canonical merging of the two parishes of Saint Augustine and Good Shepherd Churches.  This was done by the Archdiocese of Hartford to streamline and provide for a stronger and more vibrant parishes of the future.  Because of this, I am encouraged to create a single identity to make the merger more effective.  With that in mind, we will be combining the grades 1-8 Religious Education Programs (CCD) this fall under the Saint Nicholas name. It will be based out of Good Shepherd Church.
The Confirmation program is proving a little more difficult because of the difference in the programs. More information about that will be forthcoming.  With that said, Confirmation for this year's students at Good Shepherd will have Confirmation conferred to them on Saturday, September 30th at 10:00am.
Hopefully these changes will create a more solid and prayerful religious experience for our students bringing them closer to God.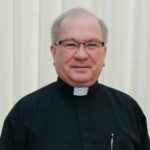 Father Tom
Registration for the Fall, 2017 Religious Education classes for the children of St. Nicholas parish will be on Wednesday evenings from 6:30 PM -7:30 PM in the Rectory Conference Room located in the back of the Good Shepherd rectory.  This registration is for children who are in Grades 1-8.  Please bring a copy of the Baptismal Certificate for all Grade 1 students and students who are new to the program only if they were not baptized at the Church of the Good Shepherd or St Augustine.  If you have any questions, please contact Glenn or Debi Durette at 203-735-3190.