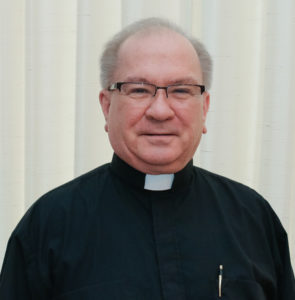 Wow, the churches look so different now that all the Christmas decorations are gone. I kept the decorations up until the Baptism of the Lord which officially ends the Christmas season in the church calendar. As I stated last week, Ash Wednesday is fast approaching. I have decided to suspend the practice of having Saint Augustine Church open during the late morning and afternoon because we cannot control the amount of people in the church all at once. So, I have decided to add an extra mass that day. We will have a 9:00am mass at Church of the Good Shepherd, a noon mass at Saint Augustine Church and a 7pm mass at Church of the Good Shepherd. I don't anticipate great crowds because I don't see the present conditions changing by then.
The gospel this weekend was about calling. It would be nice if God would call us as clearly as God calls Samuel. And not just once but three times, until we get the message. Samuel does not know God, we are told, and the priest Eli has to tell him who is calling. How interesting that Samuel is called before he even knows who it is he is responding to. At the same time, he is sleeping in the temple near the ark, God's dwelling place. He is well-placed to hear God when he calls.
In John's Gospel, the brothers Andrew and Simon have been waiting for the Messiah to appear. John the Baptist points the way to Jesus, and they do not even wait to be called. They give themselves to Jesus, following him without being asked, and Jesus claims Simon as his own by renaming him Peter.
In each of these examples, those who are called are assisted by another. Eli points Samuel in the right direction. John the Baptist directs Peter and Andrew to the Christ. There's another similarity between those who are called, and that's their unlikeliness. Samuel is a child who doesn't know God.  Peter and Andrew are fishermen, not at all from the religious elite.
However, all of them will do great things in God's name. Samuel will become a great prophet and choose Saul and David as the first two kings of the Jews. Peter will be the rock upon which God will build his church. 
What really unites the people who are called in these three stories, however, is that they are listening. They have put themselves in the place where they will be most able to respond to God's call when it comes. Most of us muddle through life trying to discern God's will for us. We may feel that we are unlikely to be called to greater service.
After all, looking around we see others in church who have great talents. They have great singing voices, are charming and easily talk to others, or are smart and well-versed in the faith. We expect God to call them and so we lie low, choosing instead to blend in, sit back and listen. But clearly the Bible doesn't say that God calls the talented. In fact, it often seems the opposite is true! God chooses slaves and stutterers, vagabonds and tax collectors. Every one of us should be expected to be called.
First and foremost, we are called to live out our baptismal promises, to follow Jesus. We have put ourselves in the place where we can best hear God's call. Here we are, today, in God's house, God's dwelling place. We have gathered at church to hear God's word, with open ears and open hearts. We gather for Eucharist, to eat the bread of life and drink the blood of God's sacrifice for us. We know the Christ and we have answered the call to follow him. We have come to the church to listen to God's call for us.
The ministers are here to point to Jesus, through song, through Word, through administering the Eucharist. Before we leave church today, we should take time to talk to our neighbors, to listen to what others are telling us and to look for ways that God is calling us to serve. Like the apostles, we have announced that we are looking for the Messiah, waiting for the call. When it comes, let us jump up as if from sleep and run, saying, "Here I am!"
I am so glad that so many of you have responded to God's call in your life. Saint Nicholas Parish is a better place because of you. And when this pandemic is over, I can't wait to see all of you and get back to a more normal life with social gatherings where we all share our time, talents and treasures. Let's hope for sooner rather than later!
Fr. Tom