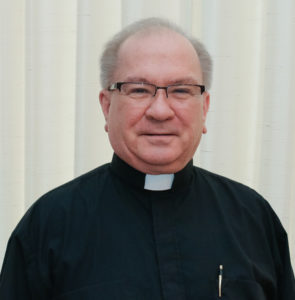 Posted May 17, 2021
I wish to thank all of you who have supported the parish during the limited capacity with your financial contributions. By sharing your blessings with the church, you have allowed us to pay all our bills and, more importantly, to pay our employees. I cannot thank you enough. As this will be my last blog, I hope you have enjoyed my musings. With the church opening to full capacity this weekend, I hope to see many of you in person. Remember me, I'm the little priest who talks fast. Although the obligation to attend mass has been reinstated, the archbishop has been mindful of those who are still afraid to attend mass. He asks that you use your discretion in this matter.
This past Sunday, I talked about our "office" in the church. As the eleven apostles began the process of choosing a successor to Judas, they did well to pray. And their prayer began: "You, Lord, who know the hearts of all". Yes, God knows the hearts of all human beings and every part of their hearts. But the apostles, those first and closest followers of Jesus, had come to know something about the heart of God, the loving heart of God that was glimpsed in the words and deeds of Jesus, the Son of God, in his dying on the cross and rising from the dead.
So when it came to selecting a successor to Judas, the apostles needed someone who could be a powerful witness to the saving love in the heart of Jesus, someone who could be a living witness to the command of Jesus: "As I have loved you, so you also should love one another". In today's second reading, John recalls these words of Jesus: "Beloved, if God so loved us, we also must love one another".
The eleven apostles were very wise to narrow the choice of a twelfth apostle to only two men, both of whom were well qualified, apparently. And after a reverent prayer and some holy gambling, they had a successor to Judas. Matthias was numbered among the apostles.
Matthias was God's choice to be part of this ministry of unifying love in Jesus Christ. But we too, each of us, have been chosen for this ministry of love for God and others that we see in the life, death, and resurrection of Jesus Christ. God chose us at our baptism for a life in union with God's beloved Son. God chose us to be God's children, daughters and sons of God, brothers and sisters of Jesus Christ. In a sense, the words in today's first reading apply to each of us: "May another take his office." In baptism, each of us received a share in the "office," the ministry, of Jesus Christ. We received a share in his continuing work of glorifying the Father through our words and deeds of love for others. "May another take his office": the "another" is you, and the people sitting around you. Jesus Christ empowers you and everyone here today to take up the '"office," the vocation, of acting for Jesus Christ in this world, of being other Christs: Christ the teacher, healer, consoler, liberator, life-giver, Savior. We humbly make him seen and heard and felt where we live and work and play. For although Jesus has ascended into heaven, he is not on vacation there. He continues to work now through the thoughts of our hearts, the words of our mouths, and the work of our hands to accomplish God's will for this world.
Like Matthias and the other apostles, we have been called to respond to God's choice of us. Our baptismal faith is the enduring source of our life in God's service, a life that draws its power for good from God's love for us in Christ. "We have come to know and to believe in the love God has for us," says John. Jesus Christ has consecrated us to share in the "office," the mission, which he received from his almighty Father: helping others to know and believe in the love that God has for them, in the different ways that God makes possible for each of us. Our life of service endures unto everlasting life with Matthias and all the saints, including the ones sitting around you.
 Although this pandemic is not officially over, I share in most people's sense of relief that we are starting to get back to some sense of normality. But normalcy doesn't mean we can go back to the same relationship we had with God. Our world has changed, there is no disputing that. Let's make sure that we do not take God for granted in our lives any more. And make sure that we don't take the people in our lives for granted. Jesus told us to love one another. Let's make that our new motto.
With prayers and gratitude,
Fr. Tom